Family Coordinated Entry System
Family Coordinated Entry System (Family CES) is the system by which families get connected to Housing and Shelter Resources.
The FSC manages the Family Coordinated Entry System in Orange County, and we developed this system to ensure families are able to access housing support services in an equitable, timely, and coordinated manner, that is designed to match families experiencing homelessness with the appropriate available housing services. This process helps prioritize resources based on vulnerability and severity of service needs to ensure that families who need help the most can receive it.
The ultimate goal is to improve health and housing outcomes in our community by supporting families with finding the most appropriate housing and supports. These include working to prevent experiences of homelessness and a robust Diversion/Problem-Solving Project within the family system.
Guiding principles
The goals of the Family Coordinated Entry System:
To increase the efficiency of the local crisis response system for families
Improve fairness in how housing and services are allocated
Facilitate rapid access to housing and services
The Five Elements of Family Coordinated Entry
Access: The point(s) of entry for services through coordinated entry by providing direct support through training, technical assistance and case conferencing to the FSC Access Points and family shelters.
Assessment: The tool(s) used to determine a household's eligibility and prioritization for available housing resources.
Diverison/Problem-Solving: The process for resolving an episode of homelessness quickly by exploring a household's existing supports and offering one-time financial assistance, as needed.
Prioritization: The process for determining the most vulnerable households for immediate housing placement.
Referral/Placement: Once prioritized, households are matched with the best-fitting housing resources.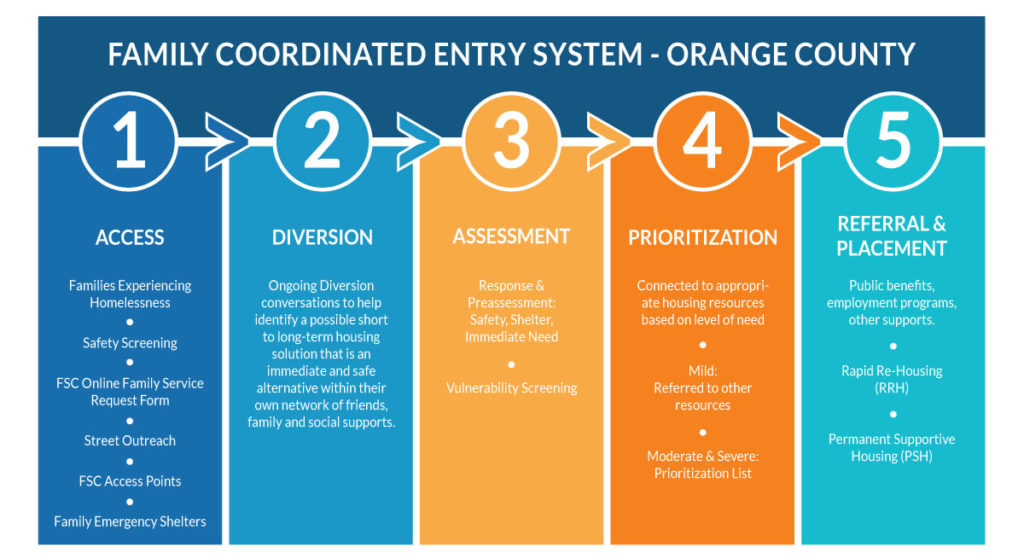 How Families Connect to FCES